Since our inception in 2014, the Weekend Burrito Brigade (WBB) has been preparing and distributing nutritious, vegan burritos on Saturdays and Sundays – the most food insecure days of the week. We've distributed more than 300,000 burritos as of Spring 2023!
Every weekend, dozens of volunteers help prepare nutritious burrito filling, stuff, and roll hundreds of burritos, and then distribute them throughout Eugene and Springfield. (Usually around 600-800 burritos per weekend!) All of our distribution is powered by our amazing crew of dedicated volunteers.
We use our own special recipe to make our burrito filling and the sauces we use, but a significant amount of our ingredients are rescued food items, such as peppers, tomatoes, and leafy greens from local grocery stores, restaurants, and farms.
Ready to volunteer for the WBB? Please sign up here!
(You can read more about volunteer opportunities in general over here, if you'd like more information or have questions.)
---
---
Due to the ever-increasing demand for food assistance around our community, we've been expanding our operations, adding other food-sharing projects like the Little Free Pantries in 2019, and Waste to Taste in 2020. The heart of our operation has always been and will continue to be distributing food to those in need.
We started the Little Free Pantry project in 2019 to help address food insecurity at a hyper-local, neighborhood level. In 2020, we started a food rescue and barrier-free food pantry called Waste to Taste, in which we place usable food that would otherwise have gone into landfills directly into the hands of community members – for free, without proof of income or need for assistance.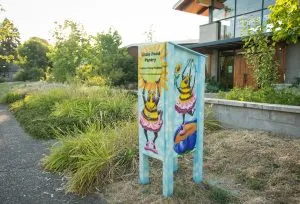 ---
---