Since our inception in 2014, Burrito Brigade has been preparing and distributing nutritious, vegan burritos on Saturdays and Sundays – the most food insecure days of the week. Since 2014, we have distributed more than 300,000 burritos!
Due to the ever-increasing demand for food assistance around our community, we've been expanding our operations, adding other food-sharing projects like the Little Free Pantries in 2019, and Waste to Taste in 2020 — though the heart of our operation continues to be distributing hot meals to those who need them.
We started the Little Free Pantry project in 2019 to help address food insecurity at the neighborhood level. In 2020, we started a food rescue and barrier-free shopping program called Waste to Taste, in which we place good food that would otherwise be wasted directly into the hands of community members – for free, without proof of income or need for assistance.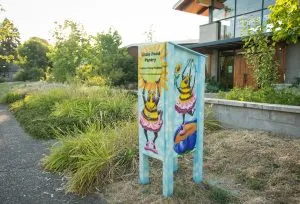 Interested in volunteering? Sign up here. Questions? Contact us! Want to support our mission? Consider making a financial or in-kind donation!