In-Kind Donations
Want to support Burrito Brigade's work in a different way? Consider making an in-kind donation! Donating excess produce and other supplies is the perfect way to support our work.
Is your garden overflowing with tomatoes? Donate 'em! Accidentally order 100 pounds of dried beans instead of 1 pound during the pandemic and don't know what to do with them? Donate 'em! Burrito Brigade processes and preserves/cans tomatoes (and other produce) all summer. In fact, tomatoes are a key ingredient in our house-made BBQ sauce that gives our tempeh burritos a delicious kick. Our burrito and sauce recipes are designed to incorporate a fantastic variety of seasonal herbs and vegetables. Many local businesses and farms support our work with in-kind donations. Below are lists items that we are currently accepting.
Burrito Brigade is a 501(c)(3) nonprofit organization. All financial and in-kind donations are tax deductible. To request a receipt, please email: info@burritobrigade.org.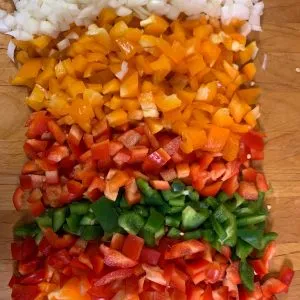 We currently accept any of the following foods:
Beans (dried, any variety)
Bell peppers (green, yellow, red)
Carrots
Green beans
Leafy greens (chard, kale, lettuce, spinach)
Mushrooms
Oil (canola or olive preferred, other oils also accepted)
Onions
Potatoes (all varieties, including sweet potatoes) 
Squash (hard or soft)
Tomatoes
We currently accept the following supplies:
Aluminum foil sheets (12″ x 10.75″)
Insulated reusable bags (to keep burritos hot during distribution)
Latex gloves (sizes S, M, L, XL)
Reusable water bottles
Looking to contribute financially?
To make a one-time or recurring monthly donation, head over to our secure GiveLively platform. Prefer to use PayPal for a one-time donation, instead? 
Thank you for supporting our work!