Burrito Brigade has a variety of volunteer opportunities! We'd love for you to join us.
---
Spring 2023 Volunteer Needs & Updates
◊ This Spring, Burrito Brigade is requesting an additional 3–5 volunteers for Waste to Taste Delivery Drivers! Interested in helping out? See below for more information.
◊ Little Free Pantry Spring 2023: All new pantry
host

requests are on hold for now as we focus our efforts on restoring and replacing existing Little Free Pantries. Check back later this year for opportunities to host!
---
Weekend Burrito Brigade
We make fresh vegan burritos every Saturday and Sunday. They are distributed throughout the community on the same day they are made.
Volunteer shifts are available during the following days and times:
Saturdays: 10:00 am – 12:30 pm
Sundays: 11:00 am – 2:00 pm
Weekend Burrito Brigade volunteer assignments include:
Prepping (chopping, slicing, etc.) vegetables and tofu
Filling and rolling burritos
Distributing burritos (You can deliver with your vehicle or by bicycle!)
---
Did ya know? There is also a Portland Burrito Brigade chapter!
You can contact them at portland@burritobrigade.org.
---
Waste to Taste
At our free food pantry, Waste to Taste, we rely on volunteers for nearly every aspect of the operation.
Volunteers assist with unloading and sorting donations that we receive, as well as portioning out bulk donations, restocking shelves, general cleaning and tidying to keep the space beautiful and sanitary for shoppers, greeting and assisting shoppers during their appointments, and making and/or delivering food boxes.
Volunteer shifts are available during the following days and times:
Monday through Friday

Sorting/stocking/cleaning shifts: 1:15 pm – 3:30 pm
Evening shifts (greeting/assisting shoppers/closing) 3:45 pm – 6:00 pm
◊ As of Spring 2023 we are seeking 3-5 volunteer delivery drivers. ◊
You may have heard through our quarterly newsletter or on social media that the grant we had which allowed us to utilize free deliveries through DoorDash has been exhausted as of March 2023. Food box deliveries are an important part of our work, as they allow us to reach Waste to Taste shoppers who are unable to shop in person, have urgent requests, etc.
Please note: Food box delivery drivers should have a clean driving record, and a reliable vehicle that they are willing to use for short shifts. Delivery volunteers should be able to walk, sit, stand, lift, grasp, and carry cardboard boxes filled with assorted foodstuff for 30 – 60 minutes, or have a helper who can assist them. Food delivery boxes weigh approx. 20 – 30 pounds. All volunteers must sign a waiver, and volunteer drivers must sign a safe driving agreement before they can begin.
---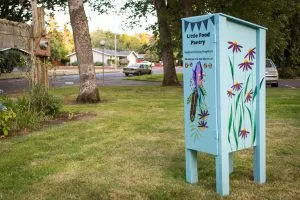 Little Free Pantries (LFP or LFPs for short!)
Little Free Pantries are a neighborhood-based form of food support. They are kind of like Little Free Libraries, except, they are filled with food!
Hosts and volunteers are encouraged to contribute to LFPs in their own neighborhoods, closest to their own homes by sharing non-perishable, high-demand foods. (E.g., rice, beans, proteins, etc.)
Volunteer shifts are available during the following days and times:
There are no designated days or times to volunteer. Hosts and supporters of LFPs are encouraged to check their local LFP as often as they are able. Supporters are encouraged to restock the LFP and tidy up around the general area as needed.
→Want to support your local pantry? Find one in your neighborhood using our LFP map.
→Interested in hosting your own pantry? Fill out this form on the Little Free Pantry page.
---
---